100% route begins at the start of the game, and it ends when the mask shatters at the end of the game. However, the player must also collect all items in the game, including the shop upgrades and 45 Power Seals, before they complete the game.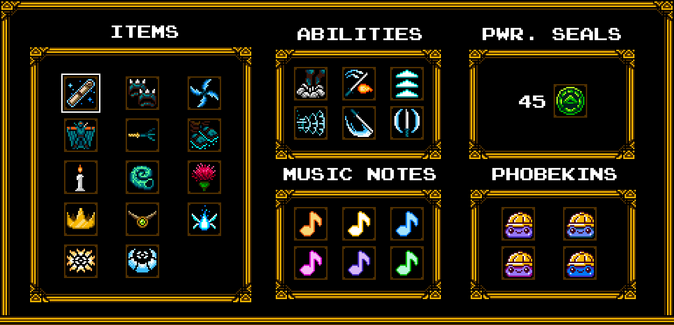 The inventory menu screen will look like this. The last item slot is normally empty. The Power Thistle will be missing on versions earlier than Version 1.0.4.
Ninja Village
Edit
Autumn Hills
Edit
Forlorn Temple
Edit
Catacombs
Edit
Bamboo Creek
Edit
Howling Grotto
Edit
Quillshroom Marsh
Edit
Searing Crags
Edit
Glacial Peak
Edit
Tower of Time
Edit
Cloud Ruins
Edit
Underworld
Edit
Metroidvania
Edit
Community content is available under
CC-BY-SA
unless otherwise noted.